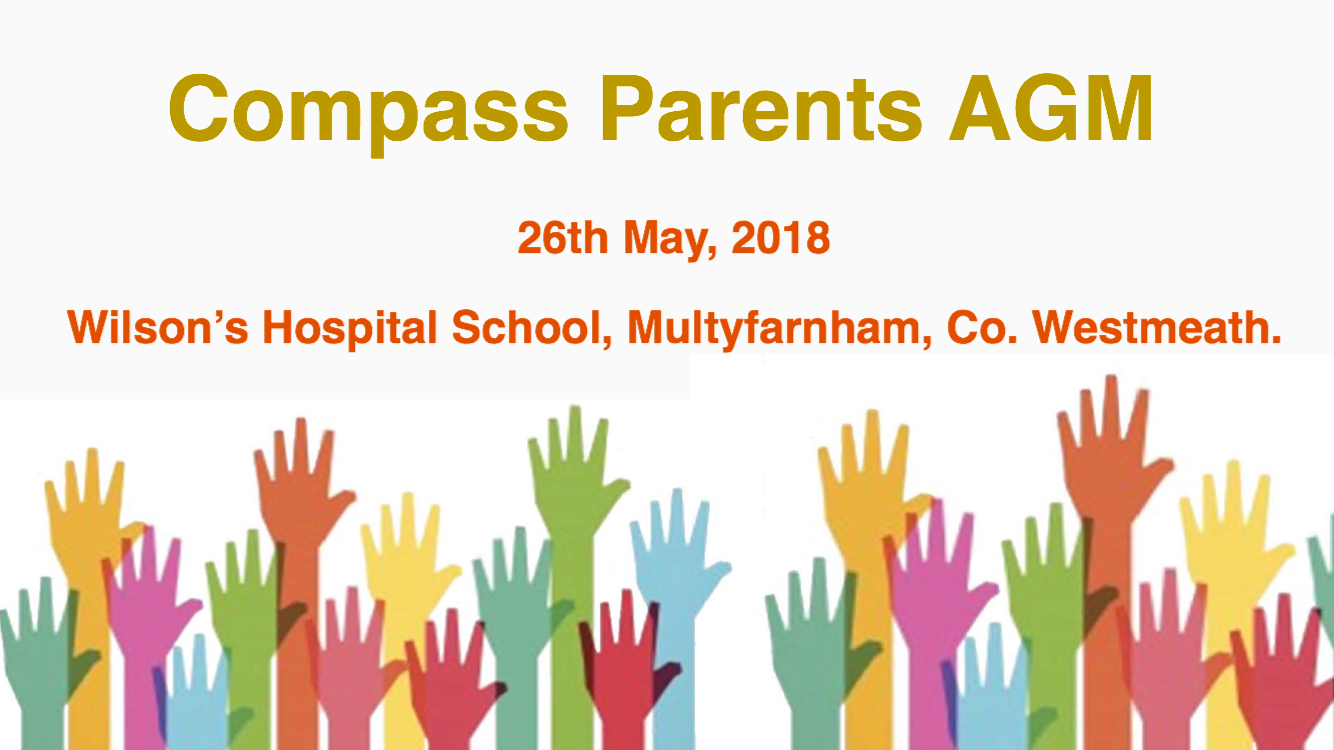 Compass Parents AGM
Please see the agenda for the COMPASS AGM 2018 below.
We are at a crucial stage within Irish education and particularly in relation to Parent involvement in the Education system (National representation/Parent Charter etc.) so we ask that you please do your best to attend this important AGM and encourage other parents from you school to come along too.

COMPASS is the link, through NPCpp, for parents in Minority Religion schools to the Government and the Department of Education. You are the link between parents at your school and COMPASS so please:

1. Pass this on to ensure that all parents at your school are advised about the date and encouraged to attend our AGM.
2. Email us back with a brief outline of the activities that the PA or PTA at your school have been involved in during the past year. (comprehensive but brief please).
3. Be prepared to get involved and to encourage other parents to link with COMPASS.

We would appreciate if you would please confirm your attendance (and others from your school that you know will attend) to Compass Secretary at martin114@eircom.net

Emails about your PA/PTA activities should be sent to this address also. (We will share outlines of activities at different schools on the day).
The Compass Executive Committee strives to develop and promote the organisation and parent representation at national level.
Information flow, new parents and new ideas help to keep us relevant and vibrant. Please do get involved.
Thank you, in anticipation for your help. We look forward to welcoming you at the AGM.
Kind regards,

Julie Carr
Secretary
National Association of COMPASS
Co-operation of Minority Religions & Protestant
Parent Associations (Post Primary)
PRESIDENT:​Mob: 087 2621588
Paul Rolston, Riverstown House, Carbury, Co. Kildare.​paulrolston007@gmail.com
HON. SECRETARY:​Tel: 041 9822007 Mob: 087 9901981
Julie Carr, 4 Woodbrook, Sandpit, Termonfeckin, Co Louth.​martin114@eircom.net
HON. TREASURER:​Mob: 086 6468583
Johnny Honner, Long Acre, Killough Upr., Kilmacanogue, Co. Wicklow.​johnnyhonner@outlook.com
Compass Annual General Meeting – 26th May, 2018
Wilson's Hospital School, Multyfarnham, Co. Westmeath.
All Compass Representatives and parents from your schools are invited to the A.G.M.
​​​​​​AGENDA
9.30am to10.00 a.m. ​Registration and Tea/Coffee on arrival
10.00 a.m.​Welcome by Paul Rolston (Compass President) followed by
"National Parents Council post primary and Compass – Representing Parents in the Future"Information and Discussion assisted by Senan Turnbull – Community, Voluntary and Charities Sector Specialist.
11am​"Strengths-based Education – motivating your son or daughter for learning success" – talk by Arthur Godsil, MA, M.Ed – Godsil Education
11.45am​A.G.M
Agenda - Circulation of 2017 A.G.M. Minutes(Also available on our website compassparents.org), Hon. Sec. Report 2017-2018, President's Report, Hon. Treasurer's Report & Accounts for 2017, Adoption of Accounts and also Election of Officers and Executive Committee for 2017-2018
1.15 p.m. (approx.)​School lunch for those who require it.
(Please contact the Secretary on martin114@eircom.netif you wish to stay for lunch)
An outline of activities driven by parents in each of our schools will be shared on the day.
We hope that as many parents from Compass affiliated schools can attend and look forward to seeing you at Wilson's Hospital School. We extend our thanks to the Principal Ms Niamh McShane for facilitating the meeting.
Julie Carr
Secretary