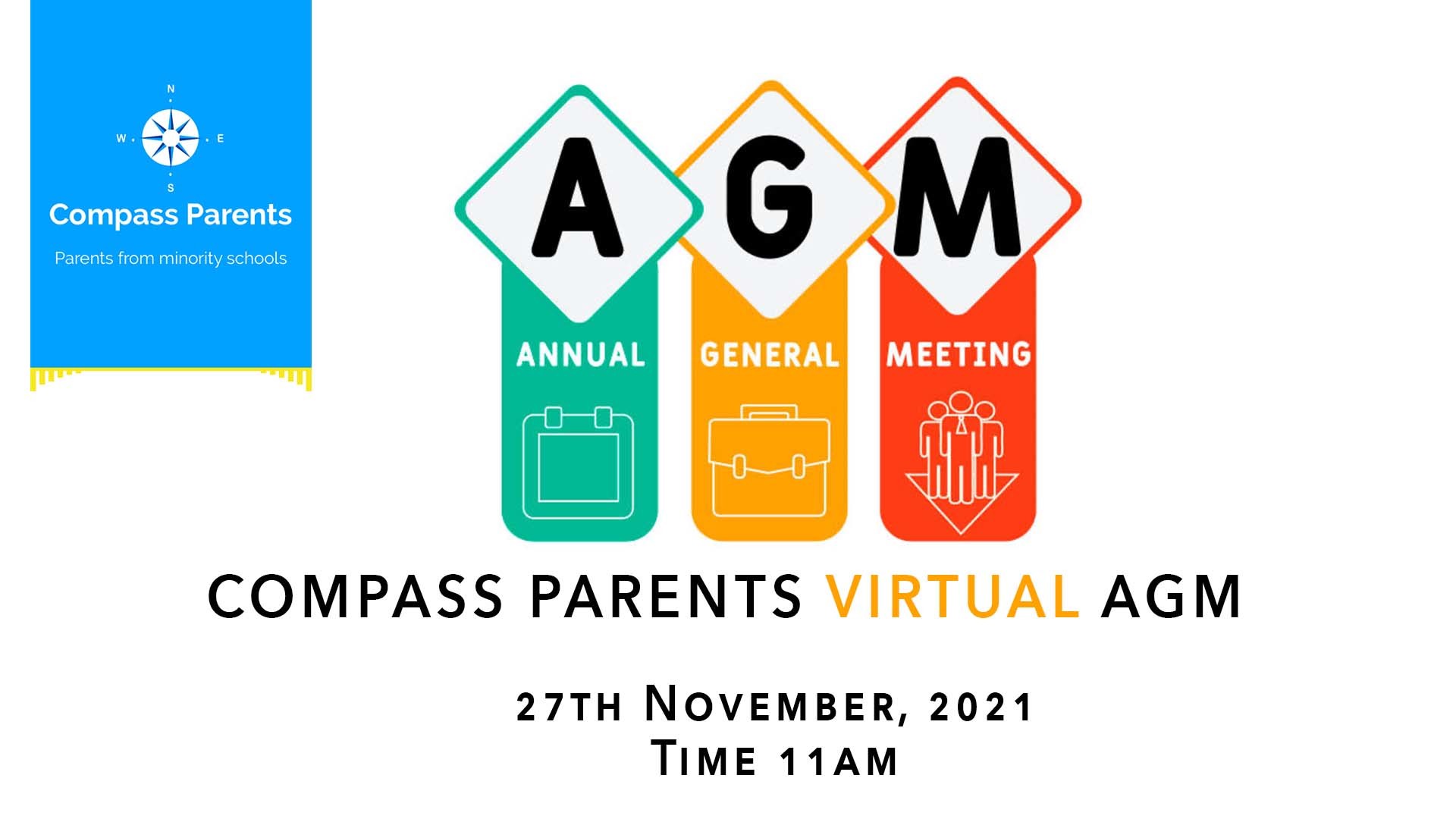 Compass Parents AGM 2021
National Association of

COMPASS

Co-operation of Minority Religions & Protestant

Parent Associations (Post Primary)

PRESIDENT:

Alyson Findlay

Hon. Secretary:

Julie Carr

Hon Treasurer:

Nigel Bannister

Mob: 087 2231752

alysonefindlay@gmail.com

Mob: 087 9901981

Mob: 087 6685896

nigelgbannister@outlook.com
Compass Annual General Meeting – 27th November, 2021 at 11.00 am
All Compass Representatives and parents/guardians from your school are invited to register and participate in the A.G.M. which will be conducted over Zoom.
Compass are delighted that Adam Lambe - Leas-Uachtarán (Deputy President) of the Irish Second-Level Students Union has agreed to speak on "The importance of students as a stakeholder."
Adam has been involved in activism since he was 16 and was elected as a regional officer for the ISSU. He has a passion for student voice and youth participation in decision making, he has worked with many different youth organisations on issues ranging from youth mental health to direct provision. He has graduated from second-level education this year and is currently taking a gap year to volunteer full-time in the ISSU.
The Irish Second-Level Students' Union (ISSU), is the national representative body for second-level students in the Republic of Ireland. They provide support, training and assistance to their member student councils. Through this support, the ISSU aims to foster a stronger student voice at all levels of the education system. It is the belief of the ISSU that second-level students should be involved in all matters that directly affect them and be respected as an equal stakeholder in their education. Their goal is to assist in developing a school system that fully empowers students as partners in their education. The ISSU has been heavily involved and are a key player in the Government's Advisory Group.
A G E N D A for A.G.M
· Circulation of 2020 A.G.M. Minutes (attached)
· Hon. Sec. Report 2020-2021 (attached)
· President's Report
· Hon. Treasurer's Report & Accounts for 2020 & Adoption of Accounts (attached)
· Election of Officers and Executive Committee for 2021-2022
· Update on Npcpp involvement in Educational issues
Any parent/guardian wishing to attend this meeting should email the Secretary at juliecarr4@outlook.com to register before the 25th November, 2021. Please feel free to email the Secretary with any queries.
There are a number of vacancies available on the Executive and we are looking for nominations to fill these places. We encourage any school which is not represented on the Executive to nominate a representative for election. These nominations should be submitted to the Secretary by 6pm on Friday the 26th November.
Kind Regards
Julie Carr - Secretary