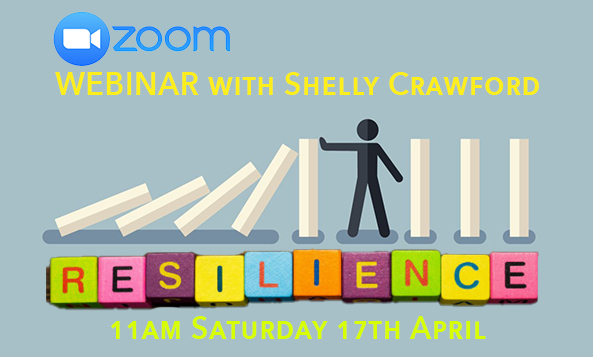 Zoom Webinar - Resilience with Shelley Crawford
Mindful of the pressures on parents/guardians during this time COMPASS have organised Shelley Crawford to speak via zoom on Saturday 17th April at 11am.
The topic will be Resilience.
Please see Shelley's Biographical note below.
If you are interested in joining this meeting on 17th April @ 11am, please contact the Julie Carr (the COMPASS Secretary) at the email address: juliecarr4@outlook.com
The relevant link will then be forwarded to you.
SHELLEY CRAWFORD
Shelley is an Organisational and Coaching Psychologist who has worked in the education sector for her entire adult life, first as a secondary school teacher and later as a lecturer and coaching psychologist in the higher education and corporate sectors. A mother of 5, she created and developed the Jess (TM) Resilience-building model (for adults and children) and the Jess (TM) Trust-building model, which was first presented at the EMCC International Conference in March 2017. The Jess models were based on her research of 15 years after she and her family experienced significant traumas. All of the Jess resilience-building, trust-building and wellbeing management programmes are grounded in robust positive psychology, social and health psychology, cognitive behavioural principles and neuroscience research.
Shelley has worked with organisations such as Irish Life, MetLife, Red Hat, Inspire Leadership, IPPN, NEPS, Cork Institute of Technology, University of Limerick, the Edelia Group and her private clients, many of whom are leaders in education, using Jess to enhance their employee well-being. Jess is also used in the UK, Australia and South Africa. An experienced European Mentoring and Coaching Council (EMCC) Programme Accreditation Assessor, Senior Practitioner Coach and Accredited Supervisor (ESIA), Shelley leads the EMCC Global Workgroup for Programme Accreditation where she is exposed to cutting-edge programmes from around the globe. Over the past 20 years, Shelley's work has involved extensive travel in Europe, Africa, Australia, South Africa and the USA. In her spare time, Shelley spends time with her children, riding her horse and painting, reading, practising yoga and walking.